Review: RAIDMAX Cobra Gaming Case
Packaging and Design
RAIDMAX is really knocking it out of the park with their case design as of late. They are constantly releasing attractive offerings and fair prices. The box that arrived on my porch was a little more simplistic than other RAIDMAX offerings in the past but for the most part, everything was nice and in good order. Nothing to write home about on the box or packaging. That being said, the Cobra is definitely one of the cooler looking cases I have seen in this price range in quite awhile. Minimalistic fans need not apply but for those who like a little bit of green flair, this case fits the bill nicely. With their new wide body design, RAIDMAX has made the Cobra something compact, lightweight but chock full of room for all your components.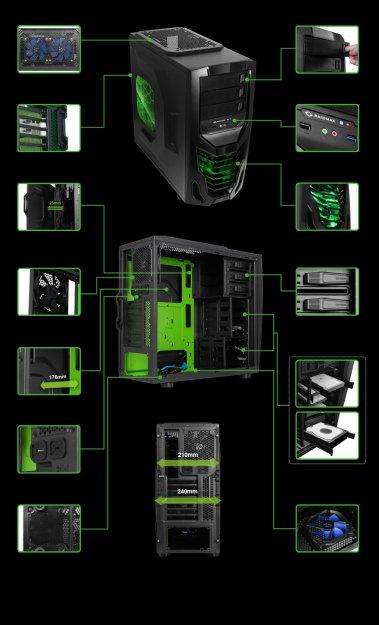 Performance and Cooling
Honestly, I was a little mislead by how lightweight this case is. I was thinking that there wouldn't be much room or substance to this small wonder. Well, nothing is small about the interior of this green beast. There is a ton of room for tall heatsinks, hard drives, 5.25 drives and whatever else you'd want to stuff in there. There are is a lot of room and the green accents are gorgeous to say the least. There are two fans included with the case but room for several more on the top, bottom and front of the case. Also featured is ample room behind the mobo for cable management and spaces for water cooling as well. The star of this show is the wide design and deep, cavernous space for such a case in this price range. Kudos to RAIDMAX!

Value
RAIDMAX is the King of Value. There, I said it. They really up the ante with the Cobra as it fits a nice demographic of those who love green LEDs (me included) and like lots of space inside their cases. This case is an absolute steal and provides a solid beginning for those venturing into PC building. I especially like the looks and the ample space. Honestly, the rest is just standard fare but this is good as it gets for this price range. Highly recommended!

RAIDMAX continues to pump out an amazing array of quality products at a fair price. The Cobra case is definitely no exception when it comes to the best bang for your buck for a low cost PC gaming case. What really shines here is the wide body design, spacious interior and striking looks. This little baby may not be the most feature rich gaming case in this price range but it is definitely one of the better looking green LED cases if you are into cool and flashy boxes.
Pros * Striking looks for those who prefer a little flair * Plenty of fan and cooling options * Spacious interior for components and tall heatsiniks
Cons * A little flimsy on some areas
4/5 Stars